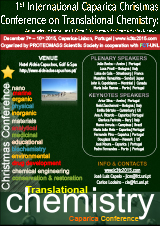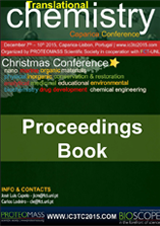 Warning for participants
Please note that Exhibition Housing Services, Exhibition Housing Management and Trade Show Housing do not represent the PROTEOMASS Scientific Society nor BIOSCOPE group, nor have PROTEOMASS Scientific Society or BIOSCOPE Group authorized them to use their names or trademarks on information they send out to participants.
Hotel booking must be done exclusively through this email: reservas@aldeiadoscapuchos.pt
No booking agencies are allowed to participate in this event.
Dear Colleagues and friends,
From the very beginning, Chemistry started with Alchemy and it has been the mother of all Sciences, always walking hand in hand with Physics. Chemistry is everywhere in our daily lives, in our foods, in our cloths, living in our houses and affecting our health. We are mainly Chemistry.
Currently, the chemistry science integrates all its small areas: organic, inorganic, analytical and physical chemistry; and the most specific areas: biochemistry, environmental chemistry, chemical engineering, materials chemistry, nanochemistry, pharmaceutical chemistry and medicinal chemistry among others. Chemistry impacts the economical development of countries and continents.
However, knowledge of Chemistry has also been misapplied, as well as, as Chemistry has facilitated the misuse of pesticides and fertilizers, general global contamination, unhealthy artificial food, etc.
The First International Christmas Caparica Congress in Translational Chemistry IC3TC-2015 is intended to be an International forum to share the most recent knowledge in Translational Chemistry, to help defend the name of Chemistry worldwide and to acknowledge the value of Chemistry, a central science for a better living.
The conference venue is located in one of the most beautiful places in Europe, Lisbon, Portugal and its surroundings. During Christmas time, the month of December, the location Lisbon-Caparica is bright and warm, making it an ideal place to spend a nice couple of days.
And last, but not least, we have some of the best in the arena:
Prof. João Rocha

University of Aveiro (Portugal)

Prof. Luca Prodi

Department of Chemistry "Giacomo Ciamician", Università degli Studi di Bologna, Bologna (Italy)

Prof. Luisa De Cola

University of Strasbourg (France)

Prof. Masahiro Yamashita

Department of Chemistry, Graduate School of Science, Tohoku University (Japan)

Dr. John A. Capobianco

Department of Chemistry and Biochemsitry, Centre for Nanoscience Research, Concordia University (Canada)
The organizing committee welcomes you and hopes to see you next December 2015, in Lisbon-Caparica, Portugal.
On behalf of the organizing committee,
C. Lodeiro and J. L. Capelo
Conference Chairs
Conference Subjects:
Inorganic Chemistry.
Organic Chemistry.
Analytical Chemistry.
Physical Chemistry.
Chemical Engineering.
Nanochemistry.
Materials Chemistry.
Biochemistry.
Educational Chemistry.
Medicinal Chemistry.
Conservation of Cultural and Heritage Chemical studies.
Marine Chemistry.
Drug Chemistry development.